THE HOME WINE COURSE ©

PART 12 - New Zealand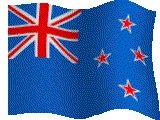 Introduction:

A late-comer to extensive wine production, New Zealand is emerging increasingly as the darling of southern hemisphere Sauvignon Blanc wine-producing nations. However to oversimplify New Zealand's success with this favorite white varietal as a wine industry one horse show would be a major mistake! One only has to taste a Kumeu River Pinot Gris or an Oyster Bay Chardonnay to know that many other white types also can excel in this gorgeous, tiny island nation. When it comes to reds Pinot Noir comes to mind but we're impressed as well by the diverse group of Bordeaux blends now being fashioned by our Kiwi friends. The biggest disappointment with New Zealand wines in the United States is their relatively high price (due to the preponderance of small wineries with limited budgets to support low market pricing).
---

Levels of Quality

Like Australia, New Zealand's government has not set up a ranked appellation control system as is used in the best vineyard regions of Europe. Therefore it's important to follow producers and regions that you can determine as the best performers through your own assessment. You may prefer a Central Otago or Marlborough Pinot Noir for instance, or you may regard the Te Mata Estate Craggy Range Bordeaux blend as the ideal for the type among New Zealand producers. Industry reviews and public wine fairs are a good guide in this regard as well, and you can also rely on the advice of your trusted local wine dealer. In general we would initially recommend trying the wines of the warmest areas from the central eastern regions of the two islands that make up the country. Remember that the further south you go in New Zealand is generally a colder area (as you are approaching the South Pole and Antarctica in this direction

).


---

Grape Types

It was established early on (mid 1970s) that Sauvignon Blanc would be the most important white cultivar for New Zealand. Many wine writers and wine lovers were taken by the absolute charm of this varietal where high-toned citrus reached exotic levels of intensity with minimal vegetal grassiness to detract from the wine's profile. Chardonnay proved to be a close competitor and can emulate the savory minerality of good French white Burgundy at a lower price. Our favorite emerging white varietal in New Zealand is Pinot Gris however; richer than Italian Pinot Grigio but less powerful than California Pinot Gris. Dry-style Riesling is also excellent in New Zealand and will become more important as this country's wines become more familiar in the United States. Gewurztraminer, Chenin Blanc, Viognier, Pinot Blanc, and Muller-Thurgau are also planted but are receiving little attention in the world markets. Reds are dominated by plantings of the Pinot Noir and Merlot varietals both of which fare reasonably well in the variable micro-climates of New Zealand. Cabernet Sauvignon still is important here but less so recently as the cool district Cabernets of New Zealand are distinctly and unpleasantly herbaceous. Cabernet is best used to give structure to Bordeaux-style blends with the softer Merlot. Syrah is making its appearance now particularly in the Hawke's Bay District. Other red varietals include the rarely seen Tempranillo, Montepulciano, and Sangiovese. Small plantings (for blending purposes mostly) also exist of Cabernet Franc, Malbec, and Petit Verdot.
---
Regions of Production

There are ten established viticultural districts throughout New Zealand, ranging from 36º S latitude in the North Island to 45º S in the South Island. These are, from north to south: Northland, Auckland, Waiheke Island (east of Auckland in the Hauraki Gulf), Gisborne, Hawke's Bay, Wellington (all North Island); Nelson, Marlborough, Canterbury, Central Otago (all South Island). New Zealand is to be considered as a maritime climate zone in general with soil types that are primarily alluvial (gravels) with the rare exception of the Pinot Noir/Chardonnay loving limestone soils in the Omihi Hills of Waipara, Canterbury, South Island. While these wine regions in New Zealand are somewhat evenly dispersed from north to south the one distinction preferred by man and vine is that these regions are mostly located on the eastern coast protected from the wind and rain that generally assails the western coast of the country. Here grapes can ripen naturally although maritime climate changes can make a fully mature harvest difficult in all but the most protected valleys (Marlborough/Hawke's Bay).
---

Summary

New Zealand wines are here to stay if only because of the significant travel interest in the wild, exotic landscape of the country. Wine prices from the biggest operators (Montana, Babich, Oyster Bay, Kim Crawford, Spy Valley, and Villa Maria) will remain affordable while more expensive small houses (Kumeu River, Felton Road, and Te Mata must be judged against their more famous counterparts in the rest of the world wine industry as to the merits of splurging on their wine. If it's a choice between novelty and classic quality the experienced wine enthusiast will always choose the latter when prices are the same.

---

Tasting Notes:










---

Go to the top of New Zealand New Zealand Wine Map New Zealand Review Questions

Recommended Wines for Tasting - New Zealand